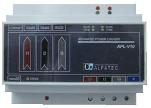 Advanced Power Logger (Advanced Power Logger – APL) is the newest device in INTELLEMS intelligent building software programme and it is a miniature measuring and information unit for home installation and monitoring of power consumption parameters.
It is primarily intended for households, residential and commercial buildings, small industrial plants and other users whose electricity consumption is relatively small and where the installation of MIS or ICM would not be economically justified.
This device has been developed through the project No. 401-00-1100-141 / 2011-14, in order to unify the most important functions of the MIS, i.e. the combination of ICM panel network analyzers, and adapt them to the new category of users, with the most favorable price/performance ratio.
In this sense, the price of this product is reduced through the integration of measuring and information parts in a microcontroller solution based on microchip DSPIC33FJ128GP708.
The data collected in the measuring part is stored on a micro SD card, and its download can be done by replacing the card or via the ETHERNET port.
APL is equipped with opto-isolated RS 232 and RS 485 communication channels through which it can be connected to other intelligent electronic devices in order to collect additional information from the environment, i.e. to GSM/GPRS modems in order to connect with remote centers in situations where this is not feasible through ETHERNET port, or when a backup communication channel is necessery.
Dimensions: 105 x 85 x 60 (mm)