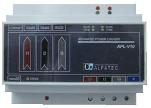 Record and monitor the parameters of the distribution network.The measured parameters are recorded on a microSD flashcard. If necessary, data can be transferred to a computer via Ethernet, RS232 or RS485 communication channel. The device contains an integrated power measurement transformers for different current ranges.
Basic features:
Input voltage-measuring: (80-290) V AC
Measured current: up to 75 A;
Power supply: from one or all three phases (redundancy),consumption of < 2.5 W;
MicroSD flash: 2 GB (1 year recording the recording interval of 1 second) Ethernet 10/100 MBite;
Opto-isolated RS232: 56.7 kBaud.