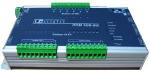 Command-control modules represent a product group by which MIS and ICM first got the capability to upgrade and implement in automatic control systems at the locations on which they are installed, and then the ability to engage in more complex systems of centralized remote monitorong, control and management. In some simpler applications, these intelligent electronic devices can work independently.
Modules consist of a number of digital inputs (DI) and digital relay outputs (DO). The number of inputs and outputs can be different and at the design stage of these devices it is adjusted to the needs of the application in which it will be used.
In terms of communication ports, the modules are usually equipped with one ETHERNET port and one RS 232 or RS 485 communication. Communication between the CCM and the remote supervisory center usually takes place over the LAN (ETHERNET port) or via GSM/GPRS or digital radio modems (RS 232 port). Digital radio networks use transparent radio modems. SCADA applications and CCMs are configured to support TCP-IP protocol, which allows remote system parameterization. Appropriate WEB applications have been developed for remote configuration, checking and/or changing CCM parameters.
The first uses of CCM were in systems where some irregularities in the operation of the monitored objects (pump stations, transformer stations, industrial facilities, etc.) were detected by MIS or ICM, which could have been eliminated by the management of certain elements of the system. In these situations, corresponding CCM are added to MISs or ICMs whose digital outputs are associated with certain control elements in the system that is monitored, while digital inputs provide information about the state of individual elements.
Various intelligent agents and multiagents have been developed for local system management.
After the installing of CCM and connecting to the parts of the system being monitored, extending the functionality of the system could be done simply by transferring newly-installed software to the remote computer (MIS, ICM) from the dispatch or command-control center, and thanks to the support for the TCP-IP protocol, all remote computers behaved as a part of a peer-to-peer VPN network, regardless of the communication channel through which they are connected to the parent centers. In the same way, software for automatic generation of typical reports which can be forwarded to parent centers from remote MIS or ICM has been developed.
All of these functions (measuring, storing data, data transfer to a data storage server, local management, etc.) do not require connections between dispatch centers (DCs) and remote stations (MIS, ICMs) at any time, so less reliable services such as GSM/GPRS with a relatively low priority level could be used.