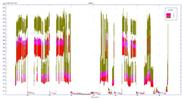 Software that automatically generates a report (Report Generator – Rgen) is used for automated, intuitive and intelligent control of reports on the measurement group, which helps to controller to get as soon as possible to the precisely created reports.
The term "measurement control group" means:
checking the accuracy of the registration of energy
current ratio of measuring transformers test,
checking current and voltage connections and
checking the accuracy of display time switch.
Control of measuring points, which, in accordance with the recommendations of coordinating team, undertake joint teams of independent institutions and power companies give excellent results. Positive effects of these actions are manifold. First, such actions give a true picture of the status of measuring points. Detailed reports that electricity distribution companies receive process the information collected in the control process in a much more quality way from the records compiled by the power distribution teams and these reports are usable and very useful for many other analyzes. In case of litigation, such reports also have additional weight. Lastly, the experience of a large number of electrical distribution utilities shows that the funds invested in such actions are multiple payments.